Getting Crowned in Nima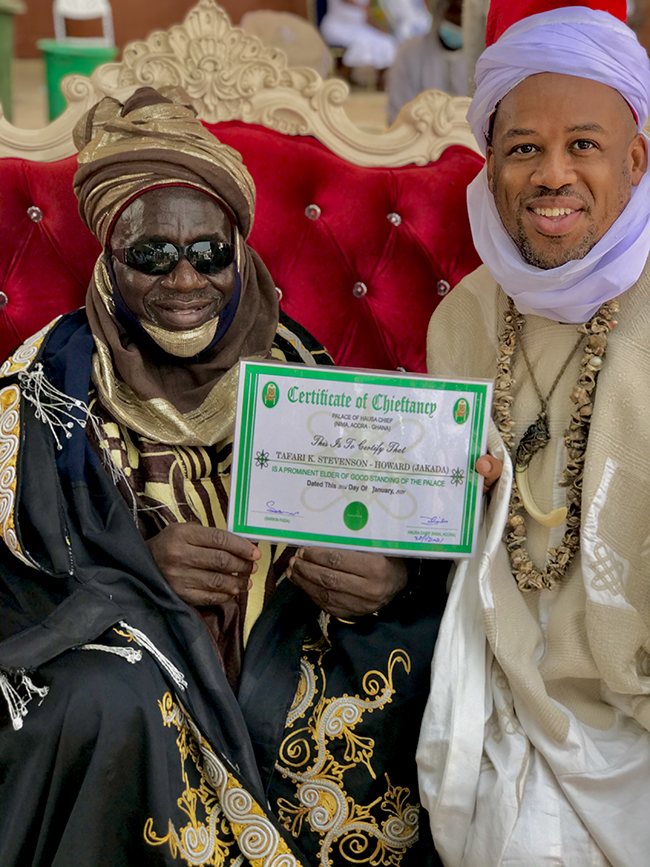 Getting Crowned in Nima
January 30th has come and gone. I am still basking in celebration since being crowned Sarki Jakada of the Nima Hausa Chief Palace.
Preparation for the ceremony was both quick and intense! Fortunately, I was guided the entire way.
It was a wild two weeks; from selecting my ceremonial dress, to slippers, my crown. Then organizing food, planning to meet safety Ghana protocols, and spiritual preparations etc.
After I was able to get organized and ready for the big day, I took a trip to Wli, Ghana to reset myself. I needed to be surrounded by nature, water to cleanse my spirit. I met with an Ewe – JuJu priest for a reading and to communicate with the ancestors for guidance.
By the end of this retreat, I felt fully ready to step into the Nima Cluster of Schools to be crowned with confidence.
Unfortunately, it was difficult for my family to join me because of the relatively short notice. However, my Ghana family had my back 100%.
The morning of the crowning started smoothly though I was too excited to eat or drink. Luckily, my soul was full.
Arriving in Nima, I could feel the excitement all around me. It was thick in the air and the normal level of noise seemed to be doubled. As I waited for the procession to the event to begin, I sat with my friends and palace family who were just as excited as I was.
Almost like a blur, everything moved super-fast once it was time to move to the event. I was put into a car and taken to the site where hundreds of people were waiting. I was in AWE and it was so hot.
When they said all the chiefs from the Greater Accra area would be there, they meant it. It was like scene from a movie. So much pageantry. Again, I was in AWE!
There were so many moving parts. The drumming, the cultural dancing, the cultural reenactments, the welcoming of Queen Mothers and community Paramount chiefs, the colors, the patterns created a beautiful uniquely west African scene.
When my name was called upon to be crowned, I was READY! I walked up steady, had a seat and was announced. The crowd cheered so loudly. I remained calm until Sardauna Mallam Musah Mai Hulla appeared in front of me and started wrapping my crown. I started to lose my composure and began to cry tears of joy. When he finished, I was the surrounded by my friends cheering me on. They were followed by a congregation of Hausa and Hausa Fulani who came to shower me with gifts of money, praise and jubilation. I totally lost it. Tears and joy were free flowing. They shouted "FULANI." I shouted back as tears continued to flow. Through it all, I heard Queen Mothers Aisha and Khande saying "Don't cry, you are a king."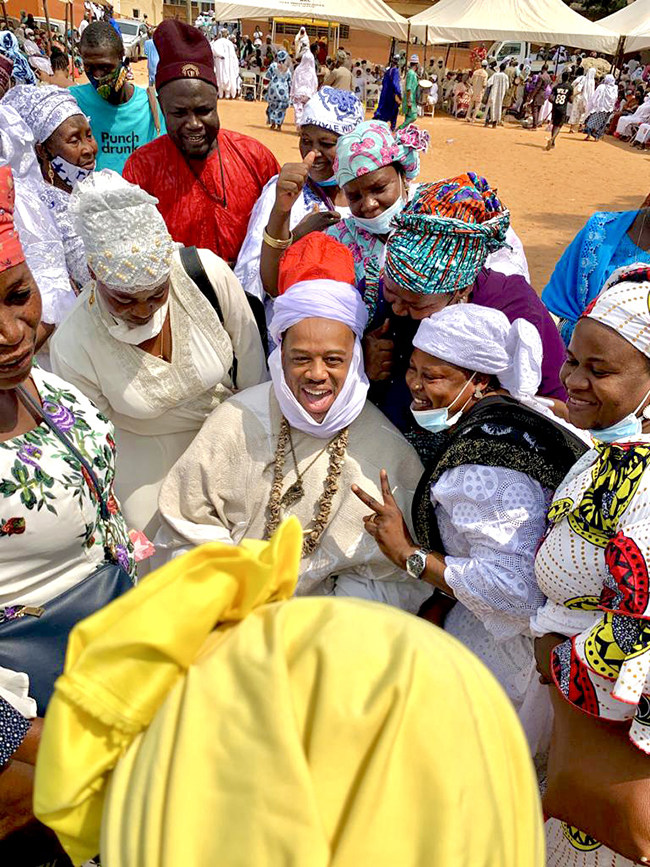 It was such an affirming moment in time. Feeling like some ancestral prophecy had come true. I had fully come home. Everyone knew, everyone welcomed me as I was.
After the main event was over, attendees started to move from the school grounds and into the streets for the parade. At this time, I climbed onto a horse for the first time and road through town with my fellow sub chiefs. It was unbelievable. So many people. So many eyes on me. So many people reaching to touch me. So many people shouting my name. JAKADA!
When the ride was over, I was exhausted, hungry and still overjoyed. What a day!
My friends were treated to a wonderful meal, the goat that I gifted to the palace was prepared and given to the community for a celebratory meal and I drunk as much sobolo (cold hibiscus tea) as I could.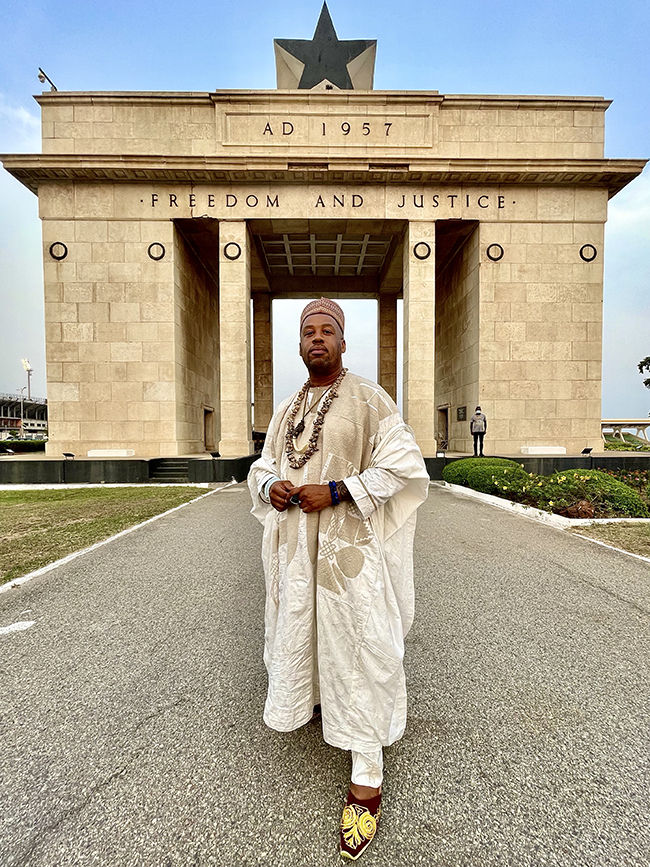 When all the celebration stated to wind down, I made my way home alone to collect my thoughts, call my family, and prepared for my own private celebration with JUST ME for dinner and a night out later with friends.
With life retuning to a slower place since my crowning, I am leaning into my role and developing some action plans for the Hausa Palace and Nima community where I know I can make an impact.
I am enthusiastically looking forward to being a visible and active member in my community and new home town while serving under my Sarki, Shaibu Salley Mayaki.