Year Ender Sound Bath Meditation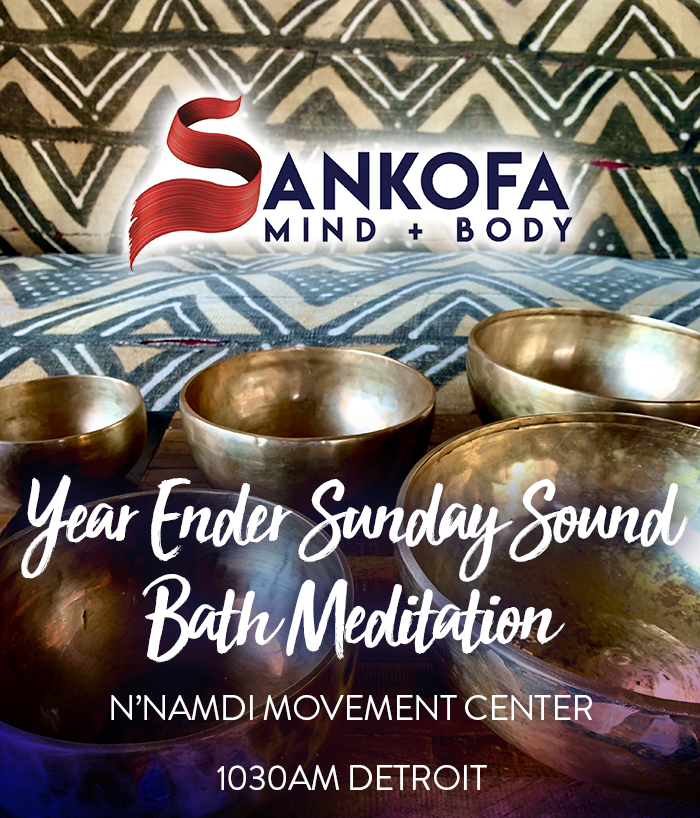 Welp, I didn't tell the full truth! HAHA! The last Sunday Sound Mediation of the year will be this coming Sunday, December 29, 2019 @ 1030am at the N'Namdi Movement Center. LET'S CELEBRATE the end of 2019 and PREPARE for 2020!
Offered in the heart of Detroit's cultural district, our sound meditation is a 60-minute experience that alternates between sound immersion, vibration, and silence to help move practitioners to a state of peaceful calm.
The session begins with a fire circle to connect everyone & gentle morning stretch. 
After preparation, we will transition into the sound meditation, which includes a combination of voice to guide you, crystal bowls, Tibetan bowls, and more to create a tapestry of vivid healing sounds to bring you to a place of deep relaxation.
You are encouraged to bring:
Yoga mat
Small blanket/Small pillow
Love
Peace
Positivity
Advanced donation is $25 and payable here Reserve Now
Location: N'Namdi Center for Contemporary Arts | 52 E. Forest Ave. Detroit, MI 48201
Other Upcoming Dates 
January 05, 2020 | 1030 am | N'Namdi Movement Center Reserve Now
January 12, 2020 | 1030 am | N'Namdi Movement Center Reserve Now