Vibrating in DC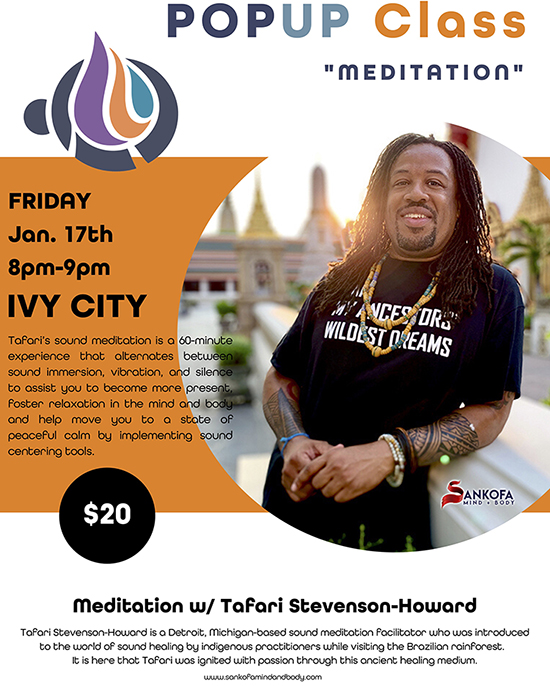 The new year is approaching and so are new adventures, growth, and opportunities! I'm happy to announce that my first travel adventure of 2020 will be with my singing bowls as I make my way to Washington D.C.
Friday, January 17th, I will be doing a pop up sound bath meditation at Bikram Yoga Works' Ivy City location at 1510 Okie Street NE, Washington, DC 20002.
The session begins at 8pm and it will be lit!
Very excited to be partnering with Bikram Yoga Works, an independently owned lifestyle and wellness organization that caters to the whole person.
So very excited to be working in DC, a city that I love and cannot get enough of. Even more so, I'm excited to be entering this space and spreading the work that's been developing in some awesome ways.
Can you tell that I am EXCITED?
Special thanks to our good friend Ayanna for helping to make meaningful connects to increase knowledge and wellness sharing!!!
Sound Meditation Pop Up
The session begins with a fire circle to connect everyone & gentle morning stretch. 
After preparation, we will transition into the sound meditation, which includes a combination of voice to guide you, crystal bowls, Tibetan bowls, and more to create a tapestry of vivid healing sounds to bring you to a place of deep relaxation.
Friday, January 17, 2020 | 8pm

Bikram Yoga Works' Ivy City  | 1510 Okie Street NE, Washington, DC 20002
Cost: $20 | Register online here!
You are encouraged to bring:
Yoga mat
Small blanket/Small pillow
Love
Peace
Positivity