Manifestation Monday: Afro Bowls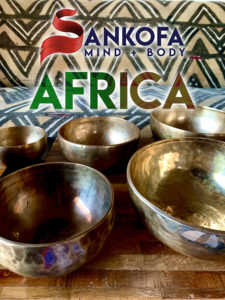 During late 2019, I made a plan to be in West Africa at some point during February 2020 (recognized as Black History Month in the US) but my schedule didn't allow for it. Instead, I will be hitting THE Motherland in March and it's going to be an adventure!
The adventure begins when I land in Accra, Ghana!!! I'm so hype just thinking about it. I plan to submerge myself in Accra's culture, food, making connections, & SOUND MEDITATION SESSIONS!
Yes, Sankofa Mind +Body is about to put in work at Bliss Yoga Accra, one of Ghana's 1st yoga studios in the entire country! Founded 7-years ago by Nana Amoako-Anin, Bliss Yoga Accra has been a go to location for locals in the greater Accra area, as well as visiting globetrotters. Additionally, they are committed to using yoga as a tool to empower the community in Ghana, through volunteerism, community workshops and health awareness.
After a spirited talk with Nana about my work, her practice, and how we align, it felt like a necessary and cosmic match! It also felt like I was talking to an old friend, so comforting!
I will be offering a low cost community class and a workshop session for all to spread these vibrations! When Nana shared that she has a commitment to ensure that yoga and other healing practices are affordable and accessible for the greater community, I knew we were in synch!
Accra Ghana Sessions
March 11th Sankofa Mind + Body "Guided Sound Meditation" – An Intro to Sound Meditation
Experience the soothing sounds of seven Tibetan Singing Bowls that are tuned in alignment with our chakra system. During this session, you will be gently guided to relax your mind and body into state of internal bliss while focusing on your breath.
March 14th: Sankofa Mind + Body "Chakra Bounce" – Chakra Breathing + Sound Bath with live drumming
Chakra Bounce is an experience that will lead you through movement and breath work that is designed to help you breathe into your energy to become aware of and experience the awakening seven chakras. Following this invigorating breath exercise, we will move into a sound bath meditation to deepen the effects of the chakra breathing to clear you Root to Crown.
Check out Bliss Yoga Accra, featured in the clip below from BBC World News: "In Business Africa." The story focuses on the rise of the leisure industry/entrepreneurs in Ghana, and Bliss' pioneering role.
After my time in Accra, I will begin a road trip with my good friend, The Kemetic Yogi to Togo and Benin and maybe beyond.
Things are still coming together as I make my way and I look forward to seeing how it all unfolds spiritually & culturally for me. I'm ready, my passport is ready, these singing bowls are ready so let's go AFRICA!
If you would like to support and donate to further Sankofa Mind + Body's work click here.