Maternity + Sound Healing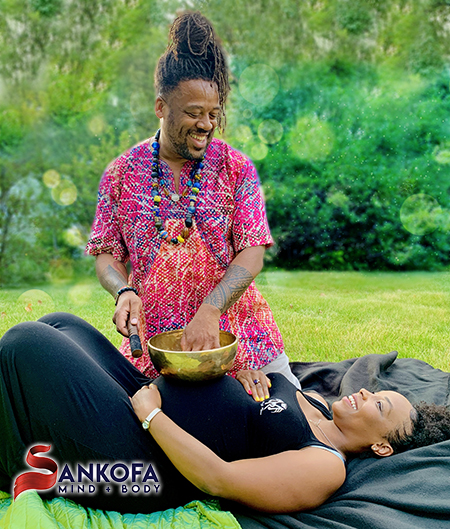 On Saturday, June 27th, 2010, I hosted the Twilight Sound Bath Meditation after a crazy day of clouds and rainstorms. Just before we started, the weather cleared up and it turned out to be a beautiful evening with soft breezes and plenty of sun before it set upon our outdoor session.
I met expectant mother, Melody Renee who joined the session with a friend and it was the first sound meditation for them both. As we got prepared, I gave a brief history of sound meditation and universal benefits to help set expectations.
I facilitated the session as I normally do but afterwards I asked Melody Renee if she would like to have a BELLY BOWL to give the baby a little soothing treat. She excitedly said "YES!"
After she was comfortable, I placed my sacral chakra bowl on her belly and began to gently strike it. The baby reacted immediately with movement. After a few strikes, I then created vibration by going around the bowl in a circular motion to activate humming and this too caused an immediate reaction from the baby. When I stopped, the baby stopped. When I started again, the baby reacted. It was almost like a healing call and response.
There are many thoughts on sound healing and pregnancy. What is good and safe for some may not be the same for others. Exercising precautions to be gentle is key to a safe, successful, and soothing interaction.
"So I had been having false labor pains (Braxton Hicks) and was told by my mid-wife to try and relax and calm myself, I wanted to find some type of wellness tools to ensure that Smalls (my baby) and I would have full term safe and wonderful birth. I heard about this sound meditation class from @thestallionblue and I agreed to go. The session was everything. This Music therapy session opened up my bodily senses and helped me to relax, I enjoyed lying down and being played for. It might sound unconventional, but recent research suggests that music therapy may lessen symptoms of prenatal anxiety for women, which in turn will benefit the health of my child and stop these ?awful Braxton Hicks.It really was an amazing feeling. My baby moved as the sound wave played in a Joyful way. This belly bath experience was so tranquilizing, Smalls really seemed to enjoy it. Thanks @sankofamindandbody we will be back the session stopped the Hicks and was rejuvenating. ?"
Melody Renee
Pregnancy can be stressful and cause anxiety. Finding tools to keep mothers relaxed, secure, and healthy is key for her sake and for the baby.
Private Maternity Session
If you're an expecting mother and curious to see how this practice can benefit you and your baby, let's get on a mat and vibe to some soothing sound healing!
Private or small group sessions at my location or yours are available in Metro-Detroit! Contact to vibrate with us.
Benefits for Mother + Baby:
Reduces stress
Deepens relaxation
Enhances creativity
Improved sleep
A stronger immune system
Decrease in physical pain
Anxiety During Pregnancy May Cause:
Low birth weight
Increased complications of labor
Increased risk for miscarriage
Premature delivery
Intense/painful labor
Photo Credit: Canjanika Blue