Return of the Yoga Brunch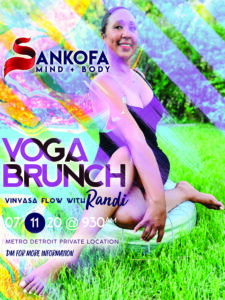 Detroit: Join Sankofa Mind + Body and yoga instructor Randi July 11, 2020 at 930am for the Yoga Brunch; a monthly summer 420 friendly chill yoga & sound meditation experience centered on self care, clearing the chakras to balance, restore, detox stress, emotional trauma, and anxiety.
Agenda:
– 930/945 Fire Circle / Intros
– 950/1050 Vinyasa flow with sound meditation integration
– 1100 BRUNCH!
You are encouraged to bring:
– Small blanket/Small pillow
– Love
– Peace
– Positivity
– Crystals to recharge (if you wish)
How to Prepare:
To enjoy the benefits of the session, we suggest that you hydrate by drinking plenty water & wear comfortable yoga clothing (sweats or other workout attire are great)/ This is not the time to allow others into your healing moment so mobile devices must be off or set to vibrate. Come ready to breathe deeply, ready to release all of the energy that does not serve you to manifest your best self.
Join the circle
– Hosted at a private Metro-Detroit location
– $35 donation to reserve a space.
– Cash app: $iamhuskybae or click here to reserve your space!